Pharmacy Technician
Search jobs for "Pharmacy Technician"
Quick Facts: Pharmacy Technicians
2021 Median Pay
$36,740 per year
$17.66 per hour
Typical Entry-Level Education
High school diploma or equivalent
Work Experience in a Related Occupation
None
On-the-job Training
Moderate-term on-the-job training
Number of Jobs, 2021
447,300
Job Outlook, 2021-31
5% (as fast as average)
Employment Change, 2021-31
22,400
What Pharmacy Technicians Do
Pharmacy technicians help pharmacists dispense prescription medication to customers or health professionals. They mainly work in retail pharmacies and hospitals.
Duties
Pharmacy technicians typically do the following:
Collect information needed to fill a prescription from customers or health professionals
Measure amounts of medication for prescriptions
Package and label prescriptions
Organize inventory and alert pharmacists to any shortages of medications or supplies
Accept payment for prescriptions and process insurance claims
Enter customer or patient information, including any prescriptions taken, into a computer system
Answer phone calls from customers
Arrange for customers to speak with pharmacists if customers have questions about medications or health matters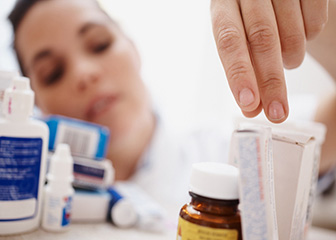 Pharmacy technicians work under the supervision of pharmacists, who must review prescriptions before they are given to patients. In most states, technicians can compound or mix some medications and call physicians for prescription refill authorizations. Technicians also may need to operate automated dispensing equipment when filling prescription orders.
Pharmacy technicians working in hospitals and other medical facilities prepare a greater variety of medications, such as intravenous medications. They may make rounds in the hospital, giving medications to patients.
---
Work Environment
Pharmacy technicians work in pharmacies, including those found in drug, general merchandise, and grocery stores, and in hospitals. Pharmacy technicians spend most of the workday on their feet.
Work Schedules
Most pharmacy technicians work full time. Pharmacies may be open at all hours. Therefore, pharmacy technicians may have to work nights or weekends.
---
How to Become a Pharmacy Technician
Pharmacy technicians usually need a high school diploma or equivalent and learn their duties through on-the-job training, or they may complete a postsecondary education program in pharmacy technology. Most states regulate pharmacy technicians, which is a process that may require passing an exam or completing a formal education or training program.
Education
Pharmacy technicians usually need a high school diploma or equivalent and typically learn their duties through on-the-job training. The training periods vary in length and subject matter according to the employer's requirements.
Other pharmacy technicians enter the occupation after completing postsecondary education programs in pharmacy technology. These programs are usually offered by vocational schools or community colleges. Most programs award a certificate after 1 year or less, although some programs last longer and lead to an associate's degree.
The American Society of Health-System Pharmacists (ASHP) accredits pharmacy technician programs that include at least 600 hours of instruction over a minimum of 15 weeks. They cover a variety of subjects, such as arithmetic used in pharmacies, recordkeeping, ways of dispensing medications, and pharmacy law and ethics. Technicians also learn the names, uses, and doses of medications. Most programs also include clinical experience opportunities, in which students gain hands-on experience in a pharmacy.
Important Qualities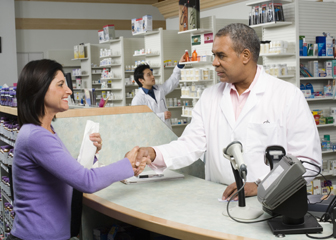 Customer-Service Skills — Pharmacy technicians spend much of their time interacting with customers, so being helpful and polite is required of pharmacy technicians in a retail setting.
Detail Oriented — Serious health problems can result from mistakes in filling prescriptions. Although the pharmacist is responsible for ensuring the safety of all medications dispensed, pharmacy technicians should pay attention to detail so that complications are avoided.
Listening Skills — Pharmacy technicians must communicate clearly with pharmacists and doctors when taking prescription orders. When speaking with customers, technicians must listen carefully to understand customers' needs and determine if they need to speak with a pharmacist.
Math Skills — Pharmacy technicians need to have an understanding of the math concepts used in pharmacies when counting pills and compounding medications.
Organizational Skills — Working as a pharmacy technician involves balancing a variety of responsibilities. Pharmacy technicians need good organizational skills to complete the work delegated by pharmacists while at the same time providing service to customers or patients.
Licenses, Certifications, and Registrations
Most states regulate pharmacy technicians in some way. Consult state Boards of Pharmacy for particular regulations. Requirements for pharmacy technicians in the states that regulate them typically include some or all of the following:
High school diploma or GED
Formal education or training program
Exam
Fees
Continuing education
Criminal background check
Some states and employers require pharmacy technicians to be certified. Even where it is not required, certification may make it easier to get a job. Many employers of pharmacy technicians will pay for employees to take the certification exam.
Two organizations offer certification. The Pharmacy Technician Certification Board (PTCB) certification requires a high school diploma and the passing of an exam. Applicants for the National Healthcareer Association (NHA) certification must be at least 18 years old, have a high school diploma, and have completed a training program or have 1 year of work experience. Technicians must recertify every 2 years by completing 20 hours of continuing education courses.
Source: Bureau of Labor Statistics, U.S. Department of Labor, Occupational Outlook Handbook