Medical Assistant
Search jobs for "Medical Assistant"
Quick Facts: Medical Assistants
2021 Median Pay
$37,190 per year
$17.88 per hour
Typical Entry-Level Education
Postsecondary nondegree award
Work Experience in a Related Occupation
None
On-the-job Training
None
Number of Jobs, 2021
743,500
Job Outlook, 2021-31
16% (much faster than average)
Employment Change, 2021-31
117,800
What Medical Assistants Do
Medical assistants complete administrative and clinical tasks in the offices of physicians, hospitals, and other healthcare facilities. Their duties vary with the location, specialty, and size of the practice.
Duties
Medical assistants typically do the following:
Record patient history and personal information
Measure vital signs, such as blood pressure
Help physicians with patient examinations
Give patients injections or medications as directed by physicians and as permitted by state law
Schedule patient appointments
Prepare blood samples for laboratory tests
Enter patient information into medical records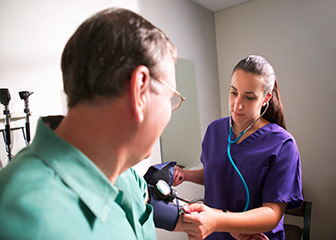 Medical assistants take and record patients' personal information. They must be able to keep that information confidential and discuss it only with other medical personnel who are involved in treating the patient.
Electronic health records (EHRs) are changing some medical assistants' jobs. More and more physicians are adopting EHRs, moving all their patient information from paper to electronic records. Assistants need to learn the EHR software that their office uses.
Medical assistants should not be confused with physician assistants, who examine, diagnose, and treat patients under a physician's supervision.
In larger practices or hospitals, medical assistants may specialize in either administrative or clinical work.
---
Work Environment
Most medical assistants work in physicians' offices, hospitals, outpatient clinics, and other healthcare facilities.
Work Schedules
Most medical assistants work full time. Some work evenings, weekends, or holidays to cover shifts in medical facilities that are always open.
---
How to Become a Medical Assistant
Most medical assistants have a postsecondary education award such as a certificate. Others enter the occupation with a high school diploma and learn through on-the-job training.
Education
Medical assistants typically graduate from postsecondary education programs. Although there are no formal educational requirements for becoming a medical assistant in most states, employers may prefer to hire assistants who have completed these programs.
Programs for medical assisting are available from community colleges, vocational schools, technical schools, and universities and take about 1 year to complete. These programs usually lead to a certificate or diploma. Some community colleges offer 2-year programs that lead to an associate's degree. All programs have classroom and laboratory portions that include lessons in anatomy and medical terminology.
Some medical assistants have a high school diploma or equivalent and learn their duties on the job. High school students interested in a career as a medical assistant should take courses in biology, chemistry, and anatomy, and possibly business and computers.
Important Qualities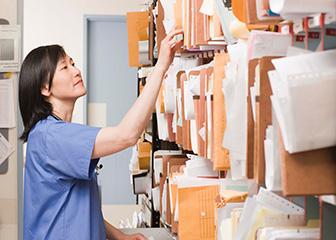 Analytical Skills — Medical assistants must be able to understand and follow medical charts and diagnoses. They may be required to code a patient's medical records for billing purposes.
Detail Oriented — Medical assistants need to be precise when taking vital signs or recording patient information. Physicians and insurance companies rely on accurate records.
Interpersonal Skills — Medical assistants need to be able to discuss patient information with other medical personnel, such as physicians. They often interact with patients who may be in pain or in distress, so they need to be able to act in a calm and professional manner.
Technical Skills — Medical assistants should be able to use basic clinical instruments so they can take a patient's vital signs, such as heart rate and blood pressure.
Training
Medical assistants who do not have postsecondary education certificates learn their skills through on-the-job training. Physicians or other medical assistants may teach a new assistant medical terminology, the names of the instruments, how to do daily tasks, how to interact with patients, and other tasks that help keep an office running smoothly. Medical assistants also learn how to code both paper and electronic health records (EHRs) and how to record patient information. It can take several months for an assistant to complete training, depending on the facility.
Licenses, Certifications, and Registrations
Medical assistants are not required to be certified in most states. However, employers may prefer to hire certified assistants.
Several organizations offer certification. An applicant must pass an exam and have taken one of several routes to be eligible for each certification. These routes include graduation from an accredited program and work experience, among others. In most cases, an applicant must be at least 18 years old before applying for certification.
Some states may require assistants to graduate from an accredited program, pass an exam, or both, in order to practice. Contact the state board of medicine for more information.
Advancement
With experience, medical assistants can specialize and move into leadership roles. With more education they may advance into other healthcare occupations such as registered nurse, physician assistant, or nurse practitioner.
Source: Bureau of Labor Statistics, U.S. Department of Labor, Occupational Outlook Handbook