Medical Records Specialist
Search jobs for "Medical Records Specialist"
Quick Facts: Medical Records Specialists
2021 Median Pay
$46,660 per year
$22.43 per hour
Typical Entry-Level Education
Postsecondary nondegree award
Work Experience in a Related Occupation
None
On-the-job Training
None
Number of Jobs, 2021
186,400
Job Outlook, 2021-31
7% (as fast as average)
Employment Change, 2021-31
12,300
What Medical Records Specialists Do
Medical records specialists compile, process, and maintain patient files. They also may classify and enter patients' medical information into the healthcare industry's numerical coding system.
Duties
Medical records specialists typically do the following:
Review patients' records for timeliness, completeness, and accuracy
Use classification systems to assign clinical codes for patients' diagnoses, procedures, medical services, and related information
Maintain and retrieve records for insurance reimbursement and data analysis
Electronically record data for collection, storage, analysis, retrieval, and reporting
Ensure confidentiality of patients' records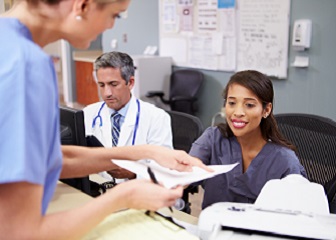 Medical records specialists have a variety of data entry and recordkeeping tasks. They may gather patients' medical histories, symptoms, test results, treatments, and other health information and enter the details into electronic health records (EHR) systems. Some workers categorize medical information for purposes such as insurance reimbursement and providing data to clinicians.
When handling medical records, these workers follow administrative, ethical, and legal requirements for safeguarding patient privacy. Medical records specialists also may serve as gatekeepers for access to patient files. They ensure access only to authorized people and retrieve, scan, and transmit files according to established protocols.
Medical coders assign the diagnosis and procedure codes for patient care, population health statistics, and billing purposes. For example, they might review patient information for preexisting conditions, such as diabetes, to ensure proper coding of patient data. They also work as the liaison between healthcare providers and billing offices.
Although medical records specialists do not provide direct patient care, they work regularly with registered nurses and other healthcare workers. They meet with these workers to clarify diagnoses or to get additional information.
---
Work Environment
Medical records specialists typically spend many hours at a computer. Most work full time.
Work Schedules
Most medical records specialists work full time in healthcare facilities that are always open, such as hospitals. Specialists may work shifts, including nights or weekends.
---
How to Become a Medical Records Specialist
Medical records specialists typically need a postsecondary certificate to enter the occupation, although some qualify with a high school diploma. Others might need an associate's degree. Certification may be required or preferred.
Education
A high school diploma or equivalent and experience in a healthcare setting are enough to qualify for some positions, but others may require a postsecondary certificate or an associate's or bachelor's degree.
High school students may benefit from taking classes in subjects such as biology, computer science, and anatomy.
Community colleges and technical schools offer certificate and associate's degree programs for medical records specialists. These programs typically include courses in medical terminology, health data requirements and standards, and classification and coding systems.
Important Qualities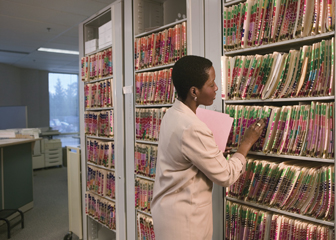 Analytical Skills — Medical records specialists must interpret medical documentation to assess diagnoses, which they then code into a patient's medical record.
Detail Oriented — Medical records specialists must be precise about verifying and coding patient information.
Integrity — Medical records specialists must exercise discretion and act ethically when working with patient data to protect patient confidentiality, as required by law.
Interpersonal Skills — Medical records specialists need to discuss patient information, discrepancies, and data requirements with physicians, finance personnel, and other workers involved in patient care and recordkeeping.
Licenses, Certifications, and Registrations
Employers may prefer to hire medical records specialists who have certification, or they may expect applicants to earn certification shortly after being hired. For example, some medical records specialists earn the Registered Health Information Technician (RHIT) credential; certifications for medical coders include the Certified Billing & Coding Specialists (CBCS), Certified Coding Associate (CCA), Certified Coding Specialist (CCS), and Certified Professional Coder (CPC).
Certifications usually require candidates to pass an exam and might require previous experience or education. Certificate, associate's, or bachelor's degree programs may help students to meet these requirements.
Advancement
Medical records specialists may advance to become health information technologists or medical registrars or medical or health services managers after completing a higher certification program or earning a degree in health information technology. Requirements vary by facility.
Source: Bureau of Labor Statistics, U.S. Department of Labor, Occupational Outlook Handbook