Licensed Practical Nurse
Search jobs for "Licensed Practical Nurse"
Quick Facts: Licensed Practical and Licensed Vocational Nurses
2021 Median Pay
$48,070 per year
$23.11 per hour
Typical Entry-Level Education
Postsecondary nondegree award
Work Experience in a Related Occupation
None
On-the-job Training
None
Number of Jobs, 2021
657,200
Job Outlook, 2021-31
6% (as fast as average)
Employment Change, 2021-31
41,300
What Licensed Practical Nurses Do
Licensed practical nurses (LPNs) and licensed vocational nurses (LVNs) provide basic medical care. They work under the direction of registered nurses and doctors.
Duties
Licensed practical and licensed vocational nurses typically do the following:
Monitor patients' health—for example, by checking their blood pressure
Administer basic patient care, including changing bandages and inserting catheters
Provide for the basic comfort of patients, such as helping them bathe or dress
Discuss the care they are providing with patients and listen to their concerns
Report patients' status and concerns to registered nurses and doctors
Keep records on patients' health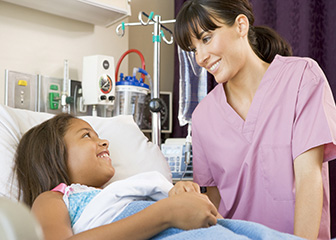 Duties of LPNs and LVNs vary, depending on their work setting and the state in which they work. For example, they may reinforce teaching done by registered nurses regarding how family members should care for a relative; help to deliver, care for, and feed infants; collect samples for testing and do routine laboratory tests; or feed patients who need help eating.
LPNs and LVNs may be limited to doing certain tasks, depending on the state where they work. For example, in some states, LPNs with proper training can give medication or start intravenous (IV) drips, but in other states LPNs cannot perform these tasks. State regulations also govern the extent to which LPNs and LVNs must be directly supervised. For example, an LPN may provide certain forms of care only with instructions from a registered nurse.
In some states, experienced licensed practical and licensed vocational nurses supervise and direct other LPNs or LVNs and unlicensed medical staff.
---
Work Environment
Nurses must often be on their feet for much of the day. They are vulnerable to back injuries, because they may have to lift patients who have trouble moving in bed, standing, or walking. These duties can be stressful, as can dealing with ill and injured people.
Work Schedules
Most licensed practical and licensed vocational nurses (LPNs and LVNs) work full time. Many work nights, weekends, and holidays, because medical care takes place at all hours. They may be required to work shifts of longer than 8 hours.
---
How to Become a Licensed Practical Nurse
Becoming a licensed practical or licensed vocational nurse (LPN or LVN) requires completing an approved educational program. LPNs and LVNs must have a license.
Education
LPNs and LVNs must complete an approved educational program. These programs award a certificate or diploma and typically take about 1 year to complete, but may take longer. They are commonly found in technical schools and community colleges, although some programs may be available in high schools or hospitals.
Practical nursing programs combine classroom learning in subjects such as nursing, biology, and pharmacology. All programs also include supervised clinical experience.
Contact state boards of nursing for lists of approved programs.
Licenses, Certifications, and Registrations
After completing a state-approved educational program, prospective LPNs and LVNs can take the National Council Licensure Examination (NCLEX-PN). In all states, they must pass the exam to get a license and work as an LPN or LVN. For more information on the NCLEX-PN examination and a list of state boards of nursing, visit the National Council of State Boards of Nursing.
LPNs and LVNs may choose to become certified through professional associations in areas such as gerontology and intravenous (IV) therapy. Certifications show that an LPN or LVN has an advanced level of knowledge about a specific subject.
In addition, employers may prefer to hire candidates who are trained to provide cardiopulmonary resuscitation (CPR).
Advancement
With experience, licensed practical and licensed vocational nurses may advance to supervisory positions. Some LPNs and LVNs advance to other healthcare occupations. For example, an LPN may complete a LPN to RN education program to become a registered nurse.
Important Qualities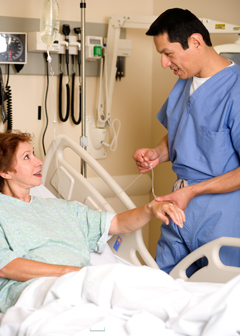 Compassion — Licensed practical and licensed vocational nurses must be empathetic and caring toward the people they serve.
Detail Oriented — LPNs and LVNs need to be responsible and detail oriented, because they must make sure that patients get the correct care at the right time.
Interpersonal Skills — Interacting with patients and other healthcare providers is a big part of their jobs, so LPNs and LVNs need good interpersonal skills.
Patience — Dealing with sick and injured people may be stressful. LPNs and LVNs should be patient, so they can cope with any stress that stems from providing care to these patients.
Physical Stamina — LPNs and LVNs should be comfortable performing physical tasks, such as bending over patients for a long time.
Speaking Skills — It is important that LPNs and LVNs communicate effectively. For example, they may need to relay information about a patient's current condition to a registered nurse.
Source: Bureau of Labor Statistics, U.S. Department of Labor, Occupational Outlook Handbook