Medical Records Specialist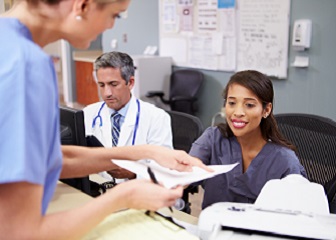 According to the Bureau of Labor Statistics for 2021, medical records specialists earned a median pay of $46,660 per year, or $22.43 per hour.
Specialists typically work full time in healthcare facilities that are always open, such as hospitals. Specialists may work shifts, including nights or weekends. Duties typically include:
Review patients' records for timeliness, completeness, and accuracy
Use classification systems to assign clinical codes for patients' diagnoses, procedures, medical services, and related information
Maintain and retrieve records for insurance reimbursement and data analysis
Electronically record data for collection, storage, analysis, retrieval, and reporting
Ensure confidentiality of patients' records
Medical records specialists typically need a postsecondary certificate to enter the occupation, although some qualify with a high school diploma. Others might need an associate's degree. Certification may be required or preferred.