Athletic Trainer
Search jobs for "Athletic Trainer"
Quick Facts: Athletic Trainers
2021 Median Pay
$48,420 per year
Typical Entry-Level Education
Master's degree
Work Experience in a Related Occupation
None
On-the-job Training
None
Number of Jobs, 2021
29,400
Job Outlook, 2021-31
17% (much faster than average)
Employment Change, 2021-31
5,100
What Athletic Trainers Do
Athletic trainers specialize in preventing, diagnosing, and treating muscle and bone injuries and illnesses.
Duties
Athletic trainers typically do the following:
Apply protective or injury-preventive devices, such as tape, bandages, and braces
Recognize and evaluate injuries
Provide first aid or emergency care
Develop and carry out rehabilitation programs for injured athletes
Plan and implement comprehensive programs to prevent injury and illness among athletes
Perform administrative tasks, such as keeping records and writing reports on injuries and treatment programs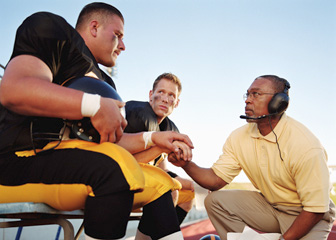 Athletic trainers work with people of all ages and all skill levels, from young children to soldiers and professional athletes. Athletic trainers are usually one of the first healthcare providers on the scene when injuries occur on the field. They work under the direction of a licensed physician and with other healthcare providers, often discussing specific injuries and treatment options or evaluating and treating patients, as directed by a physician. Some athletic trainers meet with a team physician or consulting physician regularly.
An athletic trainer's administrative responsibilities may include regular meetings with an athletic director or another administrative officer to deal with budgets, purchasing, policy implementation, and other business-related issues. Athletic trainers plan athletic programs that are compliant with federal and state regulations; for example, they may ensure a football program adheres to laws related to athlete concussions.
Athletic trainers should not be confused with fitness trainers and instructors, which include personal trainers.
---
Work Environment
Many athletic trainers work in educational settings, such as colleges, universities, elementary schools, and secondary schools. Others work in hospitals, fitness centers, or physicians' offices, or for professional sports teams. Athletic trainers also may work with military, with law enforcement, or with performing artists.
Work Schedules
Most athletic trainers work full time. Athletic trainers who work with teams during sporting events may work evenings or weekends and travel often.
---
How to Become an Athletic Trainer
Athletic trainers typically need at least a bachelor's degree, and master's degrees are common. Nearly all states require athletic trainers to have a license or certification; requirements vary by state.
Education
To enter the occupation, athletic trainers typically need a degree from a program accredited by the Commission on Accreditation of Athletic Training Education (CAATE). Although some jobs are available for workers with a bachelor's degree, many athletic trainers have a master's degree.
Admission into athletic trainer master's programs generally requires a bachelor's degree with completion of coursework in science and health. Master's degree programs have classroom and clinical components and include instruction in areas such as injury prevention, therapeutic modalities, and nutrition.
High school students interested in postsecondary athletic training programs should take courses in anatomy, physiology, and physics.
Important Qualities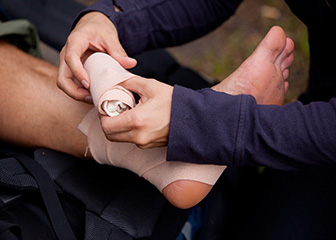 Compassion — Athletic trainers work with athletes and patients who may be in considerable pain or discomfort. The trainers must be sympathetic while providing treatments.
Decisionmaking Skills — Athletic trainers must make informed clinical decisions that could affect the health or livelihood of patients.
Detail Oriented. — Athletic trainers must record patients' progress accurately and ensure that they are receiving the appropriate treatments or practicing the correct fitness regimen.
Interpersonal Skills — Athletic trainers must have strong interpersonal skills in order to manage difficult situations. They must communicate well with others, including physicians, patients, athletes, coaches, and parents.
Licenses, Certifications, and Registrations
Nearly all states require athletic trainers to be licensed or certified; requirements vary by state. For specific requirements, contact the particular state's licensing board.
The Board of Certification for the Athletic Trainer (BOC) offers the standard certification examination that most states use for licensing athletic trainers. Certification requires graduating from a CAATE-accredited program and passing the BOC exam. To maintain certification, athletic trainers must adhere to the BOC Standards of Professional Practice and take continuing education courses.
Advancement
Assistant athletic trainers may become head athletic trainers, athletic directors, or physician, hospital, or clinic practice administrators. In any of these positions, they will assume a management role. Athletic trainers working in colleges and universities may pursue an advanced degree to increase their advancement opportunities.
Source: Bureau of Labor Statistics, U.S. Department of Labor, Occupational Outlook Handbook